Chapter Three: Pac Bell Park
Or SBC Park or AT&T Park or whatever the hell they're calling it these days.
I grew up watching the Giants play at Candlestick Park.
At first glance, Candlestick appears to be a typical cookie-cutter, multi-use, 1970's style stadium. Which would have been fine. But the 'Stick was anything but typical once the sun went down.
As soon as the sun began to set, the fog would roll in, the wind would swirl around the field, and your parka, blanket, and cocoa were just never going to be adequate.
I've been skiing in snow-covered mountains, I've been to Seattle in the winter, I've taken inventory in a walk-in ice-cream freezer, and I swear there is just no kind of cold like Candlestick Cold. It get into your bones. And it slowly deflates your very soul. There used to be an award they gave out to anyone who stayed to the end of an extra-inning night game.
Really:
I believe the Latin translates as: I came, I saw, I survived.
Of course the 'Stick does have this guy:
And where else could this happen?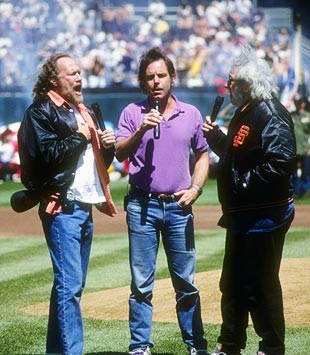 The Grateful Dead set the tone for a special Giants season, singing the anthem on Opening Day at Candlestick Park.


But nothing could ever make up for that cold. When Mark Twain said that the coldest winter he ever spent was summer in San Francisco, he must have been referring to Candlestick.

So when the Giants built their new downtown stadium, I wasn't asking for much. It could have been Ernest Borgnine ugly as long as I could go to a game without stopping off at REI first.
But when I saw the park


I thought I was going to cry. Pac Bell/SBC/AT&T Park is the most beautiful baseball facility in the US of A. And screw you, Baltimore - I've been to Camden Yards and it's nice, but not even close. Same to you, SanDiego & Petfood Park.
And yes, the giant coke bottle in center field is a little cheesey (although at least it doesn't light up in different colors like the one at Turner Field) but once you've sat behind home plate and watched Barry Bonds send a ball into San Francisco Bay, there is nowhere else you'd rather watch a game.
And that's not even the best part.
See those people behind the right-field wall? Under the out-of-town scores?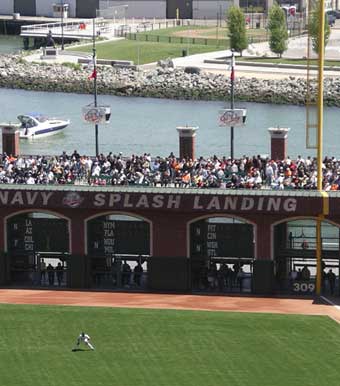 They're watching the game for free!
And this is the view they have:
Anyone can walk behind Pac Bell Park and watch the game over the right-fielder's shoulder free of charge. If there are other people waiting, security will ask you to move along after one inning, but since the first year that hasn't been a problem too often. It's an amazing perspective on the game, being right on field level. It really gives you an appreciation for the amount of ground these outfielders have to cover.
In summary: Pac Bell /AT&T park is the greatest ballpark in the country. And I'll fight anyone who says different and is considerably smaller than me.