Best Drama: Rectify
Sadly, this was the last season of
Rectify
. I still have the final episode sitting waiting in my DVR, I hate to think that once we watch that one, it's over.
If you haven't been watching it - and since it's on Sundance Channel, I assume a lot of people haven't,
Rectify
is the story of Daniel Holden , a man who has spent his entire adult life on death row for a crime he may or may not have committed (he honestly isn't even sure).
It's about him adjusting to real life after 19 years in quasi-solitary confinement waiting for death.
It's about dealing with the aftermath of trauma, it's about family dynamics and the fragile bonds of marriage. It's a bit intense. And this season especially has been pretty sad. But it's beautiful.The cast is amazing. The writing is perfect, it's shot beautifully, if you don't mind how slowly it moves, it's about as close to a perfect show as you're going to see.
Best Action/Adventure/Mystery show: Orphan Black
The story of a woman who discovers that she is one of a series of clones and her investigation into the tangled web of government and corporate espionage behind the cloning experiment might sound a little silly (I was skeptical at first) but Orphan Black might just be the most compelling mystery show of all time. ( and don't say
LOST. LOST
was dumb)
And what makes the show even more amazing is that five of the main characters, and a few minor ones, are played by the same actress:
the
Performer of the Year: Tatiana Maslany
Every character she plays has a different affect, a different accent, a different vocal timbre, different mannerisms, etc. It's easy to forget that they're all played by the same actress. Often, she has to play multiple characters in the same scene, conversing with each other, it must take ages to film each episode. If she only played Sarah Manning or Allison Hendrix, or the terrifying and hilarious Helena, she would be a front-runner for best actress, but considering she plays them all. . . wow! Amazing!
Best Comedic Actress: Kristen Schaal
Either as a live-action performer in Last Man on Earth, or the voice of precocious troublemaker Louise Belcher on Bob's Burgers, Kristen Schaal was killing it all year.
Best Comedic Actor: Rob Delaney
I've only just started watching Catastrophe on Amazon, but so far it looks like it might be the funniest show of the year. Possibly. (And I know the season I've been watching came out in 2015, but I'm watching it now, so it counts as this year. My blog, my rules.) And this is pretty much all due to the two co-stars, Rob Delaney and Sharon Horgan, who also produced the show and wrote all the episodes.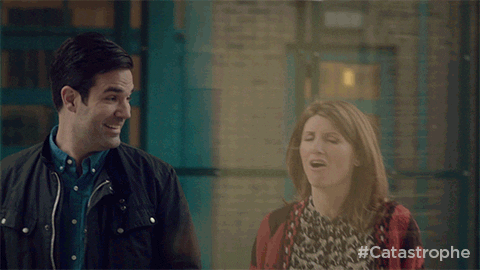 In fact, Sharon Horgan would have been in the running for comedic actress of the year had it not been for Kristen Schaal.
Watch Catastrophe if you've got Amazon Prime. If not, follow Rob on Twitter.
@RobDelaney
Other TV shows we've enjoyed or loved or were entertained by this year:
The Americans
Full Frontal with Samantha Bee
People of Earth
Better Call Saul
The Last Man on Earth
The Walking Dead
And I'm probably forgetting at least one.