Since we're being told to stay in our homes as much as possible, and since it is Women's History Month and since I totally missed Día Internacional de la Mujer, I thought I would try to combine all these recent events and present. . .
Lady-Centric Shows to Binge-Watch on Netflix
Comdey
Derry Girls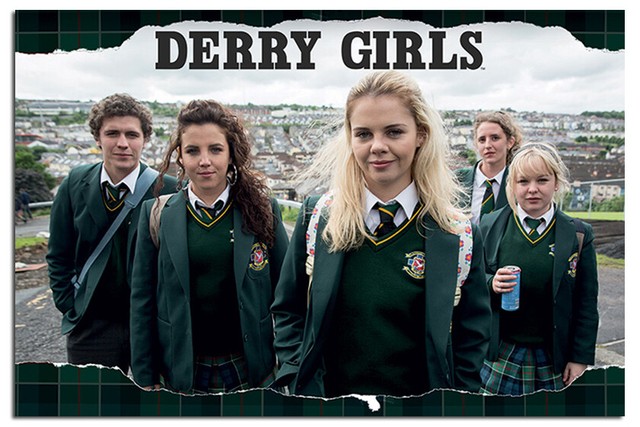 The story of 4 teenaged Irish Catholic Girls (and James, who is a "dick") growing up during the "troubles" in Northern Ireland. Might be somewhat offensive to any super devout Catholics, but pretty much safe to enjoy in mixed company for everyone else.
Workin' Moms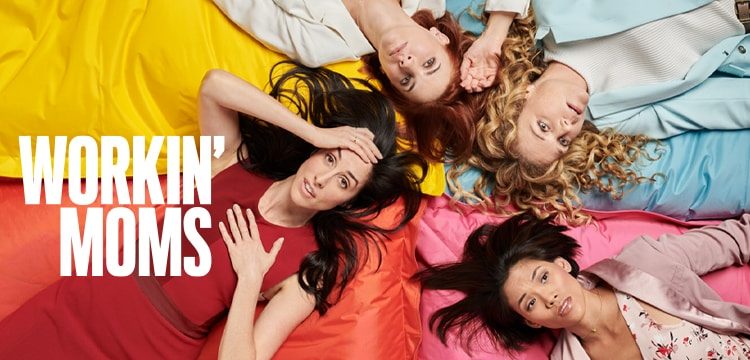 Created, written by and starring Catherine Reitman (daughter of Ivan), this show is a humorous look at the difficulties faced by new mothers returning to the workplace. This show does get quite a bit, um, bawdy, you might say? There is some occasional nudity, but interestingly enough, the nudity is never done for any reason other than to get a laugh. It's never erotic or prurient. In fact, this show might do more to de-sexualize / de-stigmatize the female nipple than any other endeavour. Probably wouldn't want to watch this with your kids or your parents.
Lady Dynamite
It's not a great show, but Maria Bamford is so good, just really really good, that it doesn't matter that much that the supporting characters are mostly annoying. She's just great. Of course, Bamford is one of my favorite comics, so if you're not as big a Bamford fan as I am, this may not be your best bet. Don't watch with anyone who has a problem with a lot of four-letter words.
Dramedy
Good Girls
This is actually a network show (NBC, I think) but the first two seasons are on Netflix. It's the story of three women, all desperate foir money for various reasons, who rob a grocery store. Then things quickly spin out of control as they are drawn deeper and deeper into a life of crime. It's the Breaking Bad formula, but funny. Great cast, too: Mad Men's Christina Hendriucks, Parks & Rec's Rhetta, Arrested Development's Mae Whitman, It's Always Sunny's David Hornsby, The Bridge's Matthew Lillard, etc.
It's made for network TV, so it's fairly appropriate family viewing.
Last Tango in Halifax
Two women from very different walks of life are thrown together when one's father begins dating the other's mother. It's a love-hate relationship that gradually trends more toward the love side as the two parents get engaged and everyone is becoming family. It's funny, it's sad in parts, it's a beautiful love story except when it isn't. And the cast is amazing. It's a master class in acting. Sarah Lancashire from Happy Valley and Nicola Walker form Unforgotten play the warring soon-to-be stepsisters. Created by Sally Wainwright who also did Happy Valley (see below)
(Unforgotten would have made the list, except that of the two main characters, only one is a lady-type person. But it's definitely worth watching too)
Horror
Marianne
(In French, with English subtitles)
As a young girl, Emma had recurring nightmares about a witch named Marianne. When she grew up, she turned those dreams into a series of successful horror books. Now it seems that maybe Marianne wasn't a figment of her dreams after all!
Too scary for children, but fine for teens and up I would think.
Cop Shows/Mysteries
Happy Valley
A cop trying to track down a kidnapper who may have been the man who raped her daughter and fathered her grandson while dealing with difficult family dynamics. About as dark as it sounds, not for kids.
Dicte: Crime Reporter
(In Danish with English subtitles)
here's tne imdb description:
Dicte is a dedicated reporter and refuses to give up before she has her story. Her stubbornes gives her problems immediately with the policeman John Wagner, and they often get into clashes with each other.
Miss Fisher's Murder Mysteries
Phrynie Fisher is a thouroughly modern woman with enough money to not have to live by 1920's society's standards. She solves murders while living the adventurous life of a roaring 20's flapper in Melbourne, Australia. Light-hearted, nothing graphic, fun for the whole family.
The Bletchley Circle
A group of British women who had worked as codebreakers during World War II turn detective. I don't remember a lot of the details, but I know we loved season one. The main character doesn't return for season 2, so we didn't like it as much, but it was still good.
Marcella

A cop on the verge of a nervous breakdown investigates a murder which might possibly have been committed by her.
Drama
Call The Midwife
You all know how much I love Call the Midwife. What else could I possibly say about this brilliant show that I haven't already said? Binge watch this sucker ASAP!
I know there are probably several I've forgotten, but we have free HBO for one more day and I need to finish the last season of Curb Your Enthusiasm., so I gotta go. Happy bingeing!