A couple stray thoughts left over from yesterday:
1. From now on, every time Sean Spicer answers a reporter's question, that reporter should be obligated to follow up with "just to clarify, is this an 'alternative fact' or an actual fact?"
Also, it's impossible to find a picture of Spicer where he doesn't look like he's about to be thrown out of a bar. " You wanna take this outside pally? No, YOU"RE 86ed!"
2. This is how I imagine Trump naming his kids:
You shall be Donald Junior, for you will carry on my legacy of greatness. Bigly!
You, I shall call "Ivanka," because even as a newborn, I'm pretty sure you're going to be smoking hot and that name sounds like an exotic porn star. .. um, I mean, Ivanka as a tribute to your mother's homeland. Yes, that's it.
Your name shall be Tiffany. The name of the finest, classiest most precious jewels in all the world, for that is what you are. Because I made you, so obviously you must be the best, right?
You shall be known as "Barron," for you shall have wealth and power that you did nothing to earn.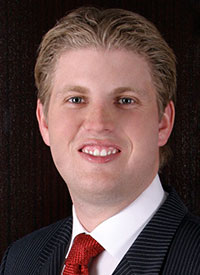 And you. . . I dunno, Eric? You look like an Eric I guess. Yeah, Eric's fine.